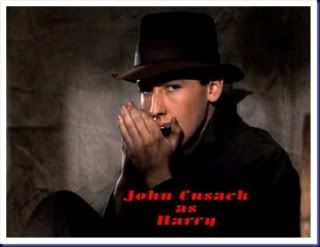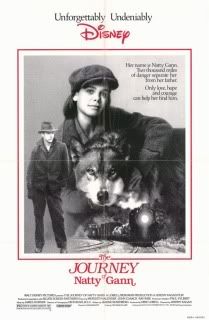 Tagline:
Her name is Natty Gann. Two thousand miles of danger separate her from her father. Only love, hope and courage can help her find him.
Cusack plays:
Depression era drifter Harry
Did you know?
Jed the wolf dog is also in
White Fang
and
The Thing
.
Taking a break from the 1980s teen flicks to do a turn in a Disney adventure which follows Natalie 'Natty' Gann as she travels across the country from Chicago to be reunited with her father who has taken a job logging in Washington state. Its 1935, times are hard, but Natty has a handy wolf-dog to help her along the way, and Cusack for part of the journey. He doesn't have a big part, mostly jumping on and off trains, but he's rather attractive and makes an impression. I assumed Natty was about 12 and he about 18 or 19 so it came as a surprise when there was a romantic undertone and a brief kiss - I guess she was perhaps a little older.
The wolf is clearly the star of the film, he gets all the good close ups and is listed first in the credits. Well it does save her from a possible rapist.