Tagline:
"You've blown up your neighbor's mom. Your seven-year-old brother has better luck with women than you do. Your girlfriend has a new boyfriend. Relax, you're never..."
or "Insanity doesn't run in the family, it gallops"
Cusack plays:
Lane Myer, teen recently dumped by adored girlfriend Beth for the star of the Ski team he desires to join.
Apparantly he hates this film, and I suppose I can see why - it is kind of weird and probably not the best use of his talents.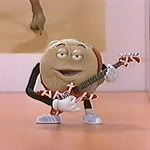 Surreal at times - a class thrilled by maths problems, a pair of dancing animated burgers singing Van Halen and a mother who dresses up as a reindeer and has a strange line in cooking. But its sort of funny too - but definitely should not be watched under the influence - that way is just kind of trippy. The title refers to the 'comedic' and half arsed suicide attempts Lane makes or accidentally makes throughout the film to heal his pain at being ditched.
The climax of the film is a marginally thriliing ski race with his love rival Roy Stalin. Alas this will not be the last Cusack film to feature a ski race (just wait until we get to True Colours...)
I liked his little brother - genious with both technology and the ladies, and the persistent paper boy pursuing his "two dollars!".