Tagline:
Destiny ... With A Sense Of Humor.
Cusack Plays:
Jonathan Trager.
I have to say I have a bit of a soft spot for this romantic comedy. Its all Christmassy which is always good and though the plot is fairly ridiculous I enjoyed watching it again. Cusack and Beckinsale bump into each other while out buynig Christmas presents and have an amazing night together. She convinces him that they should leave it to fate as to whether they meet again. He writes his number on a $5 bill and she puts her digits inside a book which she then sells. Years later they both are on the verge of marrying other people but then fate steps in.
Yes, yes ridiculous but the idea of having an object to chase, and having to check every time you go into a book shop or get change, is kind of cool. Of course in Edinburgh you'd probably find it or bump into each other again in about 5 minutes and find you had a cople of mutual friends of Facebook. Also her coy/crazy act only works becauses shes pretty. Otherwise, would he bother?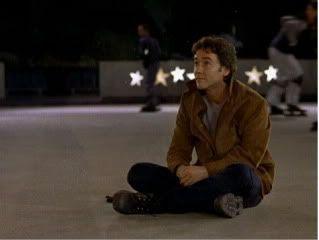 I also like the buddy act between real life friends Cusack and Piven and the narcissist in me loves that the central female character has the same name as me so I get to hear him say it over and over. Really like the song "When You Know" by Shawn Colvin used in it too.
Did you know?
There was originally meant to be a gap of 12-15 years after the first meeting, but it was felt they didn't look fresh faced enough to pull this off.