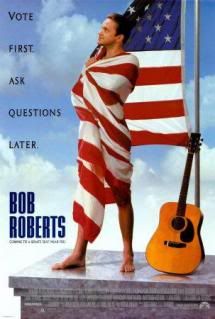 Tagline:
Vote first. Ask questions later.
Cusack plays: Host of Cutting Edge Live.
Written, directed by and starring the talented Tim Robbins, Bob Roberts is a mockumentary of a folk singer turned conservative politician and his run for the Senate. It hits all the political buttons - corruption, slander and attempted assassination. Roberts former career means that there are plenty of catchy tunes to hum along to, and the (often dirty) campaigning through music is a nice touch. Look out also for a very fresh faced Jack Black in his first film role.
Cusack pops up for a few minutes as the guest host of Cutting Edge Live, the sketch show where tempers start to flare over the messages Roberts is putting across in his appearance. He's got a scruffy thing going on in his scenes.