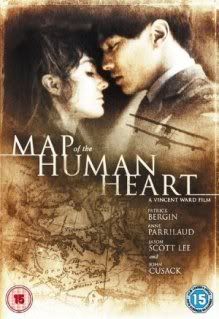 Tagline:

Born in the magic of youth. Forged by the passions of war. Their love knew no boundaries.
Cusack plays: The Mapmaker
Another example of just how diverse the films Mr Cusack picks are. This film, set before and during the Second World War, looks at the life of an Canadian Inuit, as he grows up, in saved from illness by a visiting map charter, falls in love and eventually ends up flying planes in the War. The most memorable scene is some sexytimes on top of a blimp. Cusack plays a mapmaker who the Inuit relates his life story to as an older man, and so he only appears for a couple of minutes at the start and end of the film.
I thought it was ok, although I probably wasn't paying enough attention. After this run of little bit parts I'm looking forward to a real lead role from Cusack...