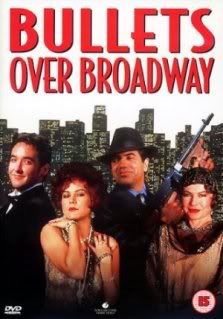 Tagline:
A killer comedy!
Cusack plays:
Playwright David Shayne.
After his small part in Allen's
Shadows and Fog
Cusack is rewarded with a leading role this time around. He is a playwright in 1920s New York forced to cast the untalented actress girlfriend of the mobster financing his production. Thankfully her bodyguard turns out to be quite a talented scribe.
I don't have any great love for Woody Allen, but this was pretty enjoyable. There's probably all kinds of intellectual stuff going on there that I won't claim to understand, but for story and humour its a good film. By god Jennifer Tilly's voice grates though.