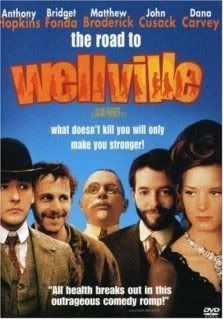 Tagline:
A comedy of the heart and other organs.
Cusack plays:
Aspiring cereal businessman Charles Ossining
Make sure you're not having your tea when you watch this one, because they talk a lot of shit in this film. Anthony Hopkins is Dr Kellogg (he of the cornflakes) who runs a health farm in the early 20th century to return people to well health through enemas, vegetarianism, anal yoghurt treatment and a raft of other procedures. Married couple Matthew Broderick and Bridget Fonda visit to get better, but find themselves recieving some sexual healing from other residents.
Cusack features in the parallel story where he attempts to start a company cashing in on the recent craze for health food cereals and ends up with Kelloggs wayward adopted son as a partner.
The story keeps viewers interested, although it keeps getting sillier throughout. No performance really stands out as particularly special and Hopkins bunny rabbit buckteeth are rather irritating. Fine for one watch but not repeat viewings.