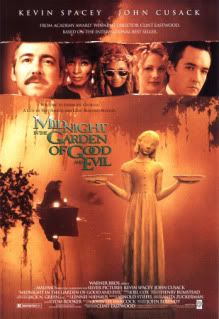 Tagline:
Welcome to Savannah, Georgia. A City Of Hot Nights And Cold Blooded Murder.
Cusack plays: John Kelso
Rather interesting (if a little long) film based on the book of the same name. John Kelso is a writer sent to cover a millionaires Christmas party in Savannah, Georgia. After befriending the man, Kelso then walks in to find the man (Kevin Spacey) has shot and killed his young lover/handyman, Jude Law. Was it self defence? A murder trial follows and Kelso ends up embroiled in the case and the city's strange residents, including drag queen Lady Chablis.
Apparently Cusack's performance in Grosse Point Blank persuaded director Clint Eastwood that he was right for the job, and he gives a pretty good account of himself. Its hard playing the straight man (literally) to a drag queen and the flamboyant Spacey. I have a hunch the book might be more enjoyable and maybe I'll get to it one day.
Fun fact: There are two Lex Luthors in this film - Spacey, and Michael Rosembaum from Smallville.